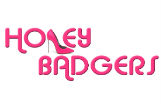 Honey Badgers
4 best friends from a small town change their identities in order to get jobs at one of the world's top financial firms. They will fake their names, their speech and their style – all to appear more sophisticated and achieve their fantasy of opening their own investment company. Modelling themselves on the strongest, toughest and most stubborn animal that they know – the honey badger – they will do anything to get to their honey!
With a few slip-ups along the way, will they keep their new identities intact long enough to reach their goal? Achieving 29% share on Channel 2, 'Honey Badgers' gives a humorous perspective on society's expectations, with endlessly comic situations and lovable characters!
Genre: Comedy
Episodes: 12 x 30 mins
Broadcaster: Channel 2 Reshet, Amazon miniTV
Country of Broadcast: Israel, India
Production: Transfax
Will they fake it till they make it?