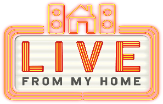 Live From My Home
What if the best concerts could take place in your own backyard? In this fresh daily stripped music show, each week 4 regular people who love to sing, whether solo or in a band, will compete to win! And with the concerts taking place in their own homes, singing has never been so personal! Each day a contestant will have to select their house-bound location, set up the stage and rehearse in preparation for their final performance. The performance will be evaluated by their fellow artists, with the week's winner achieving both the title and the cash. Get ready for a feel-good music show that will bring down the house!

Genre: Reality Singing Competition
Episodes: 30 mins
Broadcaster: TVA, Canada
Production: Productions Déferlantes
The show must go on... at home!