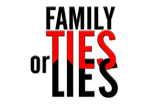 Family Ties or Lies
Siblings are always by your side - whether you like it or not. It's a dynamic that you can't miss… but could you spot a pair of siblings in the crowd? In entertaining reality competition Family Ties or Lies, 10 pairs of siblings from all ages and backgrounds live together in a holiday campground and complete challenges to win big money. The twist: some of the pairs are total strangers, with a completely fake family history! Hosted by a pair of celebrity siblings, the participants will compete in crazy challenges that will put their relationship to the test. In the finale, one pair will put to the test if they can tell the family ties from the lies in order to win the prize!
Genre: Reality Compeition
Episodes: 90-120 mins
Production: Armoza Formats and Studio BRB
Is deception in your DNA?