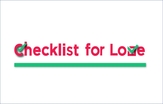 Checklist for Love
Checklist for Love is the dating reality arc competition that taps into the age-old struggle when looking for a partner – do you follow your head or your heart? 11 men and 10 women will move in together in hopes of finding their one true love. Using two checklists that each they have agreed features the qualities that are most important for their future partner to possess, the singles are put to the test. Is strength more important than smarts? Each week, one quality will be revealed and they will compete in challenges to prove their worth as a potential perfect partner. How well they do in the challenge determines their ranking in that quality which is directly connected to their overall value and monetary worth. At the end of each week, one person will be "checked-out" and get eliminated, moving out and removing the money equal to their worth from the prize money. Who will possess all the qualities on the list and leave with both their one true love and the prize money?

Genre: Dating Arc Reality
Episodes: 16 x 60-90 mins
Production: Armoza Formats and Something Special
Who will find true love and who will get checked out?