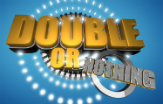 Double or Nothing
The thrilling, adrenaline-filled studio challenge show that tests if 2 really are better than 1! Every episode sees a pair of contestants take on different and fun challenges to win big money. The game is simple – pick a mission and an opponent. The opponent will undertake the challenge first, and the couple must decide if they can not only do better than their challenger, but do twice as well! If the couple – working together – loses, they lose the money too! But if they can achieve double the score of their challenger, they will double their stake money! Double the competition, double the challenge, double the money...!

Genre: Studio-Based Challenge Competition
Episodes: 60 mins
Production: Armoza Formats, Studio Glam and NBA Productions
Are two really better than one?