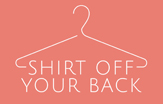 Shirt Off Your Back
How many of us stare at our closets that are filled with clothes and still feel that we have nothing to wear? In style-makeover format Shirt Off Your Back, one protagonist starts fresh with the help of our experts, who will put together a brand new stylish and efficient wardrobe. The catch? They first have to say goodbye to ALL their clothing… even the shirt off their back! Teaching them how to reframe their fashion sense, the experts will help the protagonist tap into their entrepreneurial side to sell their current clothes in order to raise the funds for their new wardrobe and then donate the rest. By the end of the process they will transform their wardrobe into an entirely new curated, sustainable and highly fashionable capsule closet consisting of no-more than 50 items - teaching how to maximize their personal look and minimize their environmental and economic fashion impact and be free of clutter forever!
Genre: Lifestyle
Episodes: 60 mins
Production: Armoza Formats
Get rid of the chaos in your closet!