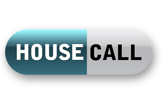 House Call
Between running a household, raising a family, and earning a living, when was the last time we stopped to take care of our bodies? House Call is a primetime factual-entertainment format that will change a family's life in order to save it. Each week a team of doctors will visit one family and force them to take a close look at how their lifestyle is affecting their health. Powerful and dramatic, with medical and social observations that are shocking and life-altering, House Call is a format with an important message that everyone should hear.

Episodes: 60 mins
Broadcaster: Channel 10, Israel
Production: United Studios Israel
Are you ready to save your family's life?