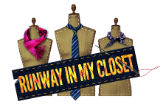 Runway in my Closet
'Runway In My Closet' is a daily stripped show that brings a sustainable new twist to fashion! We all know the feeling of staring at a full closet and yet still having nothing to wear. What if could upcycle your old clothes to turn your fashion disasters into fashion sensations? In 'Runway In My Closet', each week 3 upcoming designers are challenged to turn shabby and worn items into chic outfits, competing against each other and putting their design skills to the test. Taking regular people as models and using old clothes from their "model's" closet, they must create three different looks within a limited time and budget to win the grand prize!

Genre: Daily Stripped Styling
Episodes: 60 mins
Broadcaster: VIASAT3, Star TV
Country of Broadcast: Hungary, Turkey
Production: Armoza Formats and VIASAT3 Hungary
Turning your shabby clothes into chic outfits!