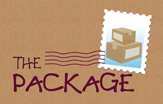 The Package
A surprise gift always sparks interest, excitement and suspense! This format centers on a package, which is passed on from one person to another, forming a chain of givers and receivers. As the package makes its journey across the country, stories are told, friendships are rekindled, and confessions are made.
The contents of the package vary from one person to another, with each person sending a package to someone who has made a difference to their life. Depending on the different stories, the sender will choose what to put in the package and what story this item will tell.
Funny, romantic, emotional and exciting – 'The Package' reminds us of the importance of all the connections in our lives.

Genre: Factual Entertainment
Episodes: 30 mins
Broadcaster: Channel 2, NCRV,Alpha TV, TV2, Puls TV, SBT, 360TV, TV1 (VIASAT), La 5
Country of broadcast: Israel, Netherlands, Greece, Finland, Poland, Brazil, Russia, Tanzania, Italy
Production: JSC Content LTD
Extraordinary moments in ordinary lives.