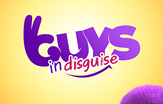 Guys in Disguise
A new, surprise-filled and comical dating format in which each episode a sexy single goes on a date with two secret admirers who have been thinking of her, although she may not have even noticed them! And there's one more catch – they will be dressed in weird and wild costumes, fully disguised from the object of their affections! In a world where looks are often placed above all, she will have to decide who she wants to go out with again before she has seen who they really are. 'Guys in Disguise' is a show that proves you can never know what form love will take!

Episodes: 30 mins
Broadcaster: Rede Record, Kanal 2
Country of Broadcast: Brazil, Estonia
Production: Armoza Formats and Artza Productions
Putting the fun back in dating!