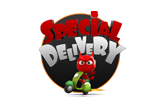 Special Delivery
What if the next time you ordered a pizza the delivery guy was a game show host? What would you do if he offered you to play a crazy trivia game show with a chance to win a big cash prize?
'Special Delivery' is a crazy format which sees a pizza delivered with a very special side order – a hot new game show being sent straight to your door! The rules are simple. Twelve questions in eight minutes. To move on to the next question, you must either answer correctly or eat a 'pizza from hell'. The further you go, the crazier it gets!

Genre: Ambush Game Show
Episodes: 30 mins
Broadcaster: Canal 10, Rede Record
Country of Broadcast: Uruguay, Brazil
Production: Lotus Productions and United Studios Israel
Be careful when you order!