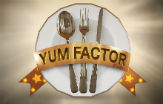 Yum Factor
An appetizing new twist on prime time cooking competitions, 'Yum Factor' combines the heart of a cooking show with the excitement of a gameshow. Each week, 3 people will cook 2 of their favorite dishes for a panel of 6 jury members and a star chef. With the cooks being able to see the jury's reactions, but not hear anything, will they be able to tell which jurors like their dish the most? Every correct guess is worth money! The cook who accumulates the most money throughout the show can take home all his winnings… or choose to risk everything for a double or nothing chance to hear whether the show's star chef thinks his food has the yum factor!

Episodes: 60 mins
Production: Armoza Formats and Abot Hameiri
Do you know who likes your food?