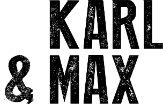 Karl & Max
Karl & Max are just 2 ordinary guys on an ordinary fishing trip… until they find a bag containing a gun and millions in cash! In spite of themselves, they are thrown into a world that they could have never imagined. Caught up in a race against organized crime for the money and trapped by the lies they must spin to their loved ones, they are swept along by the unfolding events.
Will Karl and Max be able to return to their peaceful lives and save not only their dreams and their relationships, but also their own skins? In this refreshing dramedy filled with suspense, humor and miscommunications, a single decision can change your whole life!

Genre: Dramedy
Episodes: 10 x 60 mins
Broadcaster: AddikTV & TVA, Canada
Production: Pixcom
---
Finished Series
TVA 10 x 60 mins (French)
What would you do with a dead body, a gun and a bag full of cash?