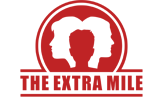 The Extra Mile
10 divorced couples, with shared children, embark on a life-changing experience in this reality competition to see who among them can let go of their past and work together to win a grand prize. After moving in to a luxurious villa, the ex-couples will face their past by living together and competing in both individual and couples challenges. Putting their skills and communication to the test, the exes must work together to avoid elimination. Which set of exes will succeed at putting their history aside to win the cash towards their children's futures?
Genre: Reality Competition
Episodes:60-90 mins
Broadcaster: Channel 10, Israel
Production: Studio Glam
What are you prepared to do for your children?