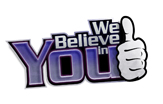 We Believe in You
The more you believe, the more you win… 'We Believe in You' is the thrilling primetime entertainment game show in which a group of friends nominate a representative to answer trivia questions in order to realize their shared dream – whether it's a college soccer team flying to see the World Cup, a troupe of actors raising money to produce a theatre tour, or an adventure club wanting to take on the Amazon...
The group must put their support behind the person that they believe is their sure-bet to win. They must also use the power of belief – after previewing each trivia question, they will decide as a group if they believe their Leader will know the answer. If so, they can double the stakes, but this also doubles the difficulty of the question. With groups of all sizes and backgrounds, strong friendships, high emotions and unique dreams, 'We Believe in You' is the rollercoaster game show where… Winning is Believing.

Episodes: 30-60 minutes
Broadcaster: Kanal D, MTVA
Country of Broadcast: Turkey, Hungary
Production: Armoza Formats
One group, one goal, one game show!