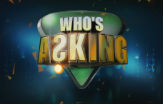 Who's Asking?
The fresh studio game show where it's not about what the question is, but who asks it! Whether it's the bus driver, your doctor, or a streetwise grandma – each has a question for the contestants! Instead of picking the type of questions to be asked, the 2 pairs of contestants must select an "asker" from the faces on the screen in front of them. In the 1st round they will pick an "asker" for themselves, in the 2nd round they will pick for their opponents and in the 3rd and final round the finalist will face a pyramid of "celebrity askers". In a game show where looks do matter, who will follow their intuition to the grand prize?

Genre: Studio Game Show
Episodes: 30-60 mins
Broadcaster: Channel 10, &TV, RTS, Thairath TV, ETV, Monte Carlo TV, TV3, Greece
Country of Broadcast: Israel, India, Switzerland, Thailand, Estonia, Uruguay, Hungary, Open TV
Production: United Studios Israel
---
Finished Series
UniMás 96 x 60 mins (Spanish)
RTS 180 x 30 mins (French)
First impressions are everything!