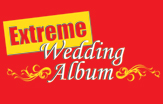 Extreme Wedding Album
On their wedding day, one bride and groom will exchange the traditional photo shoot for the chance to participate in an extreme and emotional reality show!
The couple's objective is to create an action-filled photo album based on the extreme missions they must perform. Each challenge that they win will get them closer to winning an all-expenses paid wedding - just a few hours later!
The race to the aisle has begun...

Genre: Reality Game Show
Episodes: 45 mins x 6 episodes
Broadcaster: Channel 10, Inter TV
Country of Broadcast: Israel, Ukraine
Production: Reality Productions
The most memorable day of your life just became a GAME SHOW!