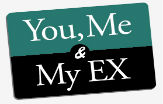 You, Me and My Ex
With divorce rates getting higher each year, how does today's modern family deal with their new reality? 'You, Me and My Ex' is a new docu-reality show that gives divorcees the chance to unite their old family with their new. One person's ex and current partner will spend the whole weekend together in an isolated resort, before being joined by the person who is the reason for their connection. They will go through a series of mental and emotional tasks in the hope that they will be able to resolve their differences and provide a happier environment for their kids.

Episodes: 60 mins
Production: Buzz Television
Because family comes first!