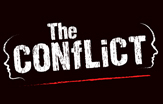 The Conflict
When a major conflict tears two people apart, will they ever be able to reunite? The Conflict is a first-of-its-kind social experiment that gives individuals the chance to see their dispute from a new point of view. For years, they have been unwilling to meet but now they will finally come "face-to-face". Two well-known actors will represent each side of the story, having met with their real-life counterparts to learn how to truly embody them on stage. They will bring the conflict to life through an enactment that simulates a pivotal moment in the relationship, while the real conflicted parties watch from the sidelines. Will this new perspective be persuasive enough to make them put their anger aside and finally meet?
Genre: Factual Entertainment
Episodes: 60 mins
Production: AIM Marketing & Eran B.Y.
There are two sides to every story