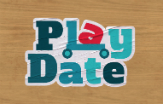 Play Date
The fun-filled docu-reality show that will bring together 5 different families who have never met before each week in the search for the perfect play date. Each daily episode takes place at the house of the host, where the parents and child have planned an activity that exceeds all their creative limits! While the kids play, the parents will watch hidden from sight and see a new side of their children, as they react to the play date from their own parenting perspective! With all the different family dynamics at play, the potential for drama is endless. At the end of each episode both parents and kids will score the play date, with the week's top-rated experience winning an indulgent vacation for all the family.
Genre: Docu-reality
Episodes: 30-60 mins
Production: Createit Studio & Armoza Formats
It's more than just child's play!