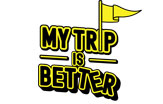 My Trip is Better
Five people who love to travel will meet for the first time in a new place and go on five-day trips together. The travelers will take turns as tour guides and each will be responsible for the well-being, entertainment, and sometimes frustration of their fellow travelers for a whole day. Each day begins with a unique wake-up call to introduce the "theme of the day" before they hit the road to visit three destinations. Whether its famous museums or hidden natural gems, the guide will try to give the best experience their destination has to offer. At the end of each day, the travelers will give their trip a rating with the final scores being revealed on the last day. Who will win the battle of the day trips?

Genre: Factual
Episodes: 30 mins
Production: Ananey Communications Ltd.
Who will travel to the top?