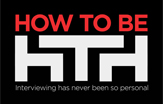 How To Be
In today's celebrity-obsessed culture, where celebs are so media-trained that they skillfully conceal the truly intimate details of their lives, how do you get them to expose something raw and personal in front of the cameras? In 'How to Be…', a well-known journalist will delve into the very psyche of the people who fascinate us most, learning about them from a completely different angle – by becoming them… even if it means dressing the part! Then – in a powerful, emotional twist – the roles will be reversed: celebrity will become interviewer, and interviewer will "become" the celebrity. The reversal of roles will confront the celebrity with his own self, and will lead him to ask the questions no one has ever asked him before.
From actors to athletes, musicians to politicians, no celeb is too big a challenge or too untouchable a public figure to tackle.

Genre: Factual Entertainment
Episodes: 30-60 mins
Broadcaster: TV3, Nederland 3, ZDF & ZDFneo, Channel 10, NRK, Cuatro, TTV, Rai 2
Country of Broadcast: Sweden, Netherlands, Germany, Israel, Norway, Spain, Poland, Italy
Production: Artza Productions
Interviews have never been so personal!