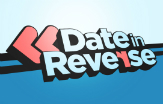 Date in Reverse
If you could turn the dating process upside down and get a glimpse into the future of a new relationship, would you still take the first step?
'Date in Reverse' is the entertaining dating show where each week 2 singles looking for love will get to know each other by experiencing the most meaningful milestones in a relationship. The twist…? The process will be condensed into one day and will be in reverse, giving them a new perspective and the rare chance to peek into their future without wasting their time… from the bridal bed to the wedding reception, the first family get-together to the first weekend getaway! Will they sense a spark from the start? Will their potential in-laws put out their fire? And at the end of an intense and insightful day, will they show up to their first date?
Episodes: 60 mins
Broadcaster: VIA TV
Country of Broadcast: South Africa
Production: Shenhar Productions & Volley Formats
Take the last step, first!