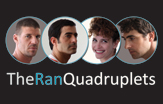 The Ran Quadruplets
The Ran siblings – three boys and a girl – were the first quadruplets born in their country. Their birth was heralded in the media, and their lives became a national sensation with one broadcaster's documentary project filming them every, similar to the famous "7 Up" project. Now they are 32 years old and the fifth filming captures and broadcasts their angst over identities, career, relationships and family. The lens exposes the lives of four people who may share the same DNA, but do not share the same lives.

Genre: Drama
Episodes: 29 x 40 mins
Broadcaster: Yes Stars, Channel 2
Country of Broadcast: Israel
Production: July-August Productions
Being the same has never been so different!