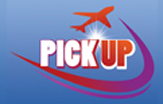 Pick Up
PICK-UP tells the story of an airline with a reputation for cheap charters, crowded seats, bumpy rides and gorgeous flight attendants (including Bar Refaeli!) Each episode is packed with exciting and turbulent stories told 30,000 feet above the earth.

Genre: Daily Drama
Episodes: 100 x 25 mins
Broadcaster: Channel 10, Israel
Production: United Studios Israel
Welcome Aboard! Buckle up your seatbelts, it's going to be a bumpy ride!