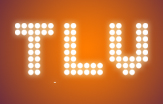 TLV
Four 20-somethings move to the big city from all over the country. Each one comes with a dream, whether it's to join the city's top PR agency, or to be the first female sports broadcaster at a TV station. But to get to the top, they have to start from the bottom! With the help and mentorship of a celebrity expert in the field, they must turn their opportunities into success.
TLV chronicles their journey – from thrilling success to devastating failure, from heartbreak to hot romance – and how they deal with the pressures of the city.

Episodes: 30-60 mins
Broadcaster: HOT, Israel
Production: Abot Hameiri
In a City Where Anything Can Happen, Everything Will!