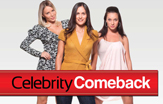 Celebrity Comeback
One famous coach accompanies four celebrities who are at their personal career low-points, helping them in their personal journey to get back into the spotlight. The celebs come from a wide range of talent and experience – one-hit wonders from the '80s, Dancing with the Stars contestants, soap opera actors, models, rappers, and dancers. What they each have in common is a recognizable name, undeniable talent and an unquenchable drive to prove to themselves that they still have what it takes to be a star.

Production: Artza Productions
Episodes: 32 x 25 mins
Broadcaster: HOT, israel
Can they make it to the top... again?