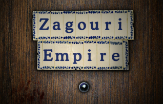 Zagouri Empire
A modern interpretation of the return of the prodigal son, 'Zagouri Empire' is an intense yet humorous drama that follows the lovable characters of the Zagouri family.
8 years after his father banished him, Aviel Zagouri returns home at the request of his dying grandfather. On his deathbed, Aviel's grandfather makes him vow to re-open the family falafel stand – no matter what. But the vow begins to turn their lives upside down when Aviel's great-aunt puts a curse on the superstitious Zagouri family that can only be lifted by making the business a success! From that moment on, every piece of bad luck is seen as a result of the curse, igniting age-old feuds.
'Zagouri Empire' was HOT's most successful drama, with record-breaking VOD views and winning the Israeli Television Academy prize for best multi-episode drama in 2014. A 3rd season has now been commissioned.

Genre: Dramedy
Episodes: 51 x 60 mins
Broadcaster: HOT, Israel
Production: United Studios Israel
You can't run from your fate...