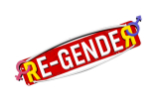 Re-Gender
What do men really think? What do women really want? What is it like to be a "woman" trying to find a job? What do "men" behave like on a date? What are both genders' breaking point?
This provocative docu-reality series tries to provide the answers to all these questions and more, by giving men and women the chance to experience life as the opposite gender. In 'Re-Gender' five men and women aged 25-35, all charismatic, highly self-aware, sexy, intelligent, and straight, will explore their own nature and the other gender's as well. The series is modeled on a psychological-social experiment, dealing with the essence of the male and female experience, through the other gender's eyes.

Episodes: 7 x 30-50 mins
Broadcaster: Channel 10, ZDFneo, Arre
Country of Broadcast: Israel, Germany, India
Production: Buzz Television
---
Finished Series
ZDFneo 5 x 60 mins (German)
Everyone should try it once.