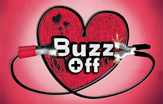 Buzz Off
One girl. Twenty bachelors. 6 hours to find The One.
At midnight, she must select just one of them to go with her on a romantic getaway – but how to get rid of the other 19 guys?
'Buzz Off' puts a new twist on speed dating with electric shockers that allow singles to "buzz off" any guy who fails to impress! As the girl goes from date to date, she can ditch any guy who fails to impress her by giving him an electric jolt! The single girl is assisted by the show's two comic hosts, who prep and interview the bachelors, and analyze each date with their witty and hilarious commentary.

Episodes: 30-45 mins
Broadcaster: Channel 2, NTV
Country of Broadcast: Israel, Japan
Production: Reshet-Noga
The most shocking dating show on TV!